Update: Find my annotated version

here
To drag my thoughts away from Norway, I've been digging through pirate-y things to bring up here.  I dug this up from Falkvinge.net . It's a little old, but since the copyright situation now is about what it was in January, it is still very much relevant. I didn't write this article. No, I'm not "stealing" it. It's in the public domain and anyway if Falkvinge wanted to come after me for copying his stuff I would have a good laugh and gleefully ridicule the hypocrisy.
Here he addresses one of the most basic questions–to artists, the most basic question–in the copyright debate. As a politician, he does not have to worry about making art pay the rent. As an artist, I do worry about this, as I am sure most of the people reading this blog do. Later, I will post my own answer to the question "How shall the artists get paid?" I thought however, that this was an insightful perspective and it prompted some reconsideration on my part. For your benefit and the benefit of any discussion, I wanted to post the source of my thoughts first and see what response the original material prompted in others.
I am very interested in your responses to this article.  So please leave your thoughts. I will be happy to discuss the responses both positive and negative.
By the way, though the specific examples given come from studies of the music industry, as I've mentioned before, I believe the publishing industry could learn a lot from the industries that digitized ahead of it. Or at least learn to ask the right questions.
One of the most common questions I get, and quite likely the most irrelevant, is "how shall the artists get paid?" in a scenario where the copyright monopoly is scaled back to sensible levels. But it makes no sense to ask that of a politician, for two primary and two secondary reasons.
1. This is not a problem for politicians.
In most of the world, we have a market economy. That means it is up to each and every one of us to find a paying job; politicians will not and can not dictate how a particular person is going to make a living.
In Soviet Russia, you had a planned economy. There, you could legitimately ask this question.
Vladimir Biletnikov! You say you want to be a tenor. You have a terrible voice, but you look strong. You shall work as a builder all your life and be paid by the Construction Bureau. Fjodor Dostoyevskij! Your health is appalling, but your writing is appreciated in cultural circles, although most people don't see why. You shall work as a writer all your life and be paid by the General Directorate of Incomprehensible Arts.
It is notable that not you were not given the choice to be paid for the particular job you wanted even in a planned economy. But in a market economy, everybody need to find their own way to contribute to the economy and make a living off of it.
You can't ask a politician where the next paycheck is going to come from.
2. It is not a problem in the first place.
Even if it would be on the politicians' desk, it turns out it is not a problem at all. The average income for artists as a collective has risen 114% since the advent of file sharing. The amount of artists getting income from their artistry has risen by 28%, and the average income per artist has risen by 66%, according to a Norwegian study. United Kingdom numbers show the same thing. (This is for music, the industry complaining the most.)
The part of the industry that is losing out is the parasitic middleman structure which isn't needed any more; the copyright industry. They — like record labels — are also the ones pushing for the eradication of the Internet as we know it.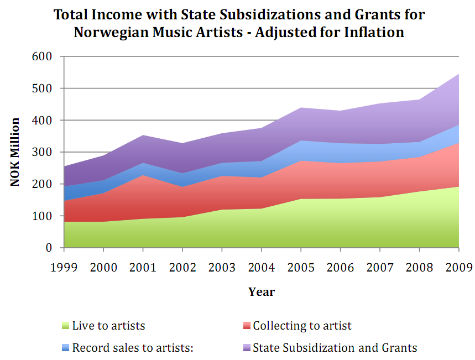 But record labels are not needed for artists to produce, exhibit and sell culture. Which is probably what scares the record labels the most: their suppliers don't need their brokerage any more, which is why they are attacking the distribution channels that allow artists to bypass them.
3. Entrepreneurs will be entrepreneurs.
Yes, the Pirate Party wholly supports people's right to make a living. But nobody has the right to call their favorite pastime "work" and demand to be paid for it.
The instant somebody goes from playing their guitar in the bedroom and at parties to wanting to make money off of it, they are no longer an artist, but an entrepreneur and a business owner. The same rules apply to them as to every other entrepreneur on the planet: They need to provide something which somebody else is prepared to pay for.
If they can do that, they need no law to sustain their business. If they can't do that, no conceivable law can save their business.
4. My fundamental rights go before your profits.
As we have seen, the question "how shall artists get paid?" is not a problem in the real world. Artists make more money than ever, there is more culture than ever, and it is not a politician's problem. But even if all of this were not so, even if artists were indeed suffering (which they aren't, but parasitic middlemen are), copyright would still need to be scaled back. It is now infringing on fundamental rights, and as a European citizen, I'm not prepared to give up those citizens' rights for a multinational corporation to boost their profit.
In the 21st century, the Internet IS speech, IS assembly, IS association and IS the press.
If a corporation can't sustain a business without having these rights limited, then that corporation deserves to go out of business. The sooner the better.
5. History repeats itself and we are cultural animals.
There will never be a shortage of culture. We have created since the day we learned to put red paint on the inside of cave walls. There is more culture available than ever, much thanks to the Internet.
There are millions more people who want to live off creating culture than the demand will bear. Most create for different motivations than money. You will have no hard time finding a professional broker or accountant who picks up their guitar as they come home from work to relax a bit, but show me a professional rock guitarist who picks out the financial ledgers for some relaxation in their spare time? In financial terms, there is an oversupply of creators. Always has been.
When the printing press and libraries arrived, the middlemen proclaimed the death of culture. History repeats itself. Let's get rid of the middlemen, limit their monopolies, and let the artists and culture flourish.